Mid Star Lab offers a wide variety of orthotic products and materials that support and alleviate varying symptoms and conditions.
Types of Orthopedic Products
Depending on your unique needs, our clinicians will recommend the appropriate corrective material to help you find relief.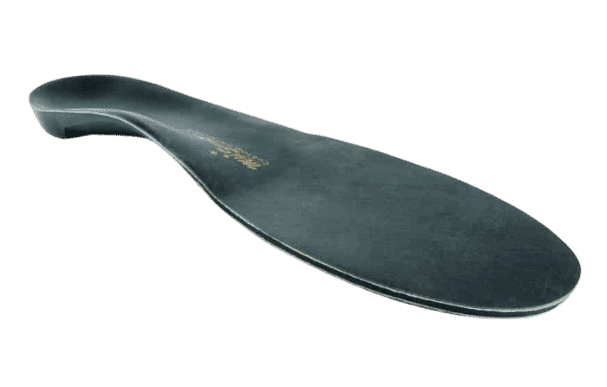 Sports/Leisure Orthotic Insoles
Improve performance and reduce possibilities of injury. Custom foot orthotics are a great solution for active people. Made from polypropylene, this is a good multi-purpose orthotic designed to improve the patient's performance and comfort in most sports and leisure activities. Available in 3 different thicknesses to accommodate patient's weight and flexibility, it is excellent for patients with plantar fasciitis, heel spurs, shin splints, ankle instability, forefoot varus or valgus, or generalized foot pain. A Naugahyde top cover and metatarsal length with an intrinsic heel post are standard. If needed, you can custom order any length, extrinsic posting and top cover material.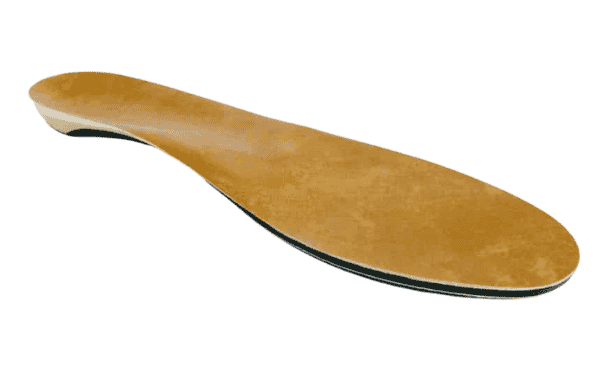 Accommodative/Geriatric Insoles
For patients who cannot tolerate rigid devices, we offer the comfort and flexibility of accommodative and geriatric solutions. Our semi-flexible devices are made of 2mm Subortholene with a poron arch fill for comfort and shock absorption. Our full-length, flexible devices are molded from EVA made full length with either a dual layer of poron and puff extension or poron and P-Cell extension. However, all orthotics can still be customized as needed. Another option available is the Firm Plastazote shell to the metatarsals with Poron and Plastazote as a full-length topcover.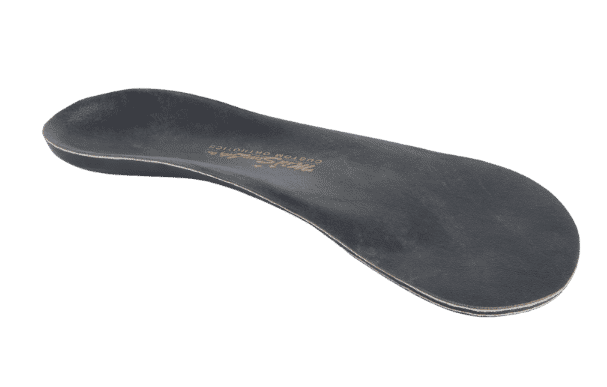 Rigid, semi-flexible and flexible orthotics offer versatility in choosing the most comfortable fit with a slimmer design for dress shoes in mind. Designed for men or women's dress shoes, these orthotics come with a Naugahyde top cover to the metatarsal length with an intrinsic heel post. Customized lengths are available. Intrinsic posting is recommended to minimize bulk. All three orthotics are good for neuromas, metatarsalgia, plantar fasciitis, and heel pain. For best results, send shoes with the casts (if possible).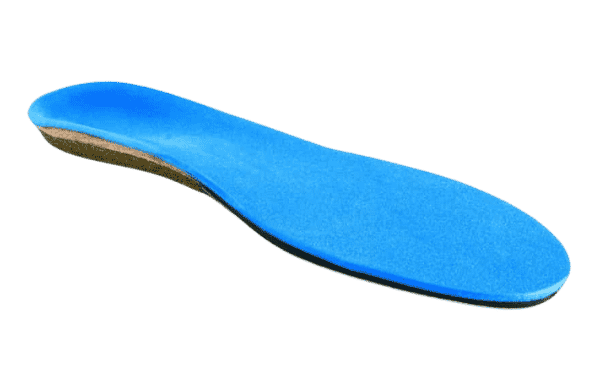 Cork/Leather Orthotic Insoles
Cork and leather both make great accommodative orthotics for patients who cannot tolerate more rigid devices. Our leather orthotics are made with your choice of standard Korex, Sponge, or Poron arch fill. Bony prominences, lesions or toe fillers can be easily accommodated with these devices. For diabetic patients, we recommend a full-length leather or cork orthotic with extension protection, padded with poron and a Plastazote or p-cell top cover.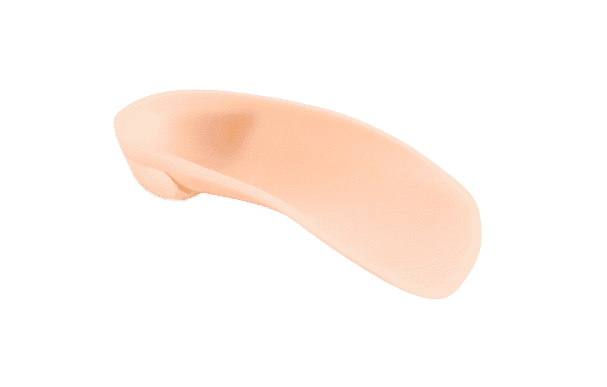 Children's Orthotic Insoles
Our children's custom orthotics can be made with heel stabilizers that have an extra deep heel cup with high lateral and medial flange. This device accommodates extra depth needed for controlling both the forefoot and rear foot abnormalities in an over pronated foot. Children's devices are used to help correct or prevent gait abnormalities and to control over pronation. Most children's devices have a deep heel cup and a high medial flange. Normally made to the metatarsal length with an extrinsic post, doctors may order any length and intrinsic posting if needed. We recommend an extrinsic post for better stability.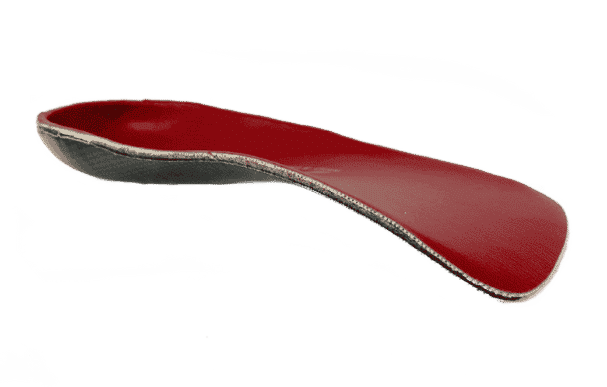 These orthotics are ideal for patients who need more control or need correction for foot or gait abnormalities such as plantar fasciitis, heel spurs, shin splints, ankle instability, forefoot varus or valgus, or generalized foot pain.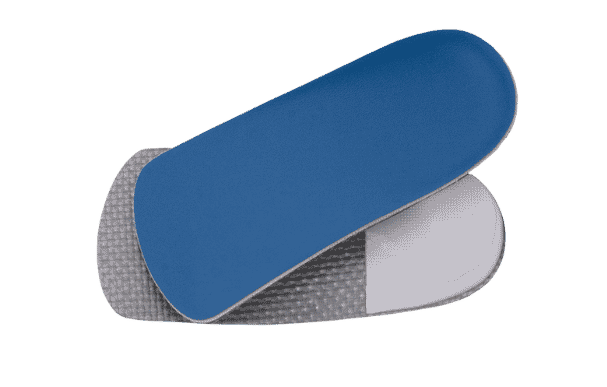 TL-Silver Orthotic Insoles
Patients use our fashionable TL-Silver orthotic for sport or dress footwear. It is made from a thermoplastic composite foot plate woven with fiberglass for reinforcement. Naugahyde is the standard top cover, but can be covered as desired. The standard is made to the metatarsal length with an intrinsic post, or they may be ordered to any length, topcover and with extrinsic posting.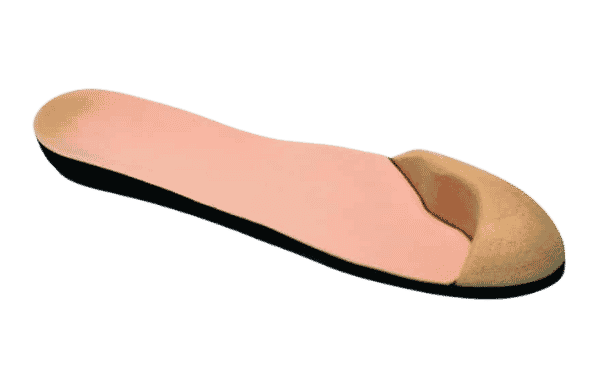 Partial Foot Prostheses Orthotic Insoles
Partial Foot Prostheses or Toe Fillers are used for patients that have had an amputation on the foot. These can fill in a single toe amputation up to most of the foot being amputated. Partial Foot Prostheses enable patients to have a more biomechanically correct gait without adding areas of pressure to other parts of the foot, restoring lost function to the foot more appropriately. These are made standard full length with a pink plastazote filler and blue plastazote topcover. Simply choose the shell that best suits your patient and customize further if needed. The shell materials that can be made into a toe filler include: leather, EVA, cork and firm plastazote.
Our certified clinicians are dedicated to providing the best care possible. 
Orthotics for patients that have served our country, through Veterans Affairs or Department of Defense.
Wholesale Custom Orthotics to care for your patients or refer your patients directly to one of our offices.
Specially crafted for patients feet that cannot be accommodated in a standard orthopedic shoe.
Diabetic Shoes and Custom Foot Orthotics for Native Americans.
Orthotics that absorb impact shock and reduce rubbing or irritation. 
Custom orthotics, orthopedic shoes, and orthopedic insoles.
Heel and comfort support for your feet for long shifts.
Types of Orthopedic Shoes
Mid Star Lab offers a wide variety of orthotic products and materials that support and alleviate varying symptoms and conditions.