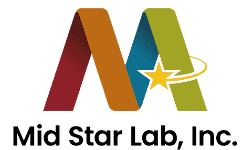 EXPERIENCE THE DIFFERENCE
Our board certified pedorthists, orthotic fitters, shoe fitters, and technicians bring extensive experience working with patients of all ages with a wide variety of orthopedic needs, including, diabetics, children, athletes, elderly, veterans, and the everyday walking professional. 

View the different foot conditions below and see if one of these may help explain some of your ongoing issues. 

Our orthotic products can be made with considerations of your specific condition in mind.

Mid Star Lab Inc. helps create comforting orthotic products that can help aid in common foot problems. 
From over-the-counter orthotics to therapeutic shoes and custom fitted inserts, Mid Star brings our patients the latest and most trusted in orthopedic technology, products, and services. Since our creation, our family-owned business has been committed to enhancing the lives of our patients, one step at at time.
Medical Foot Pain Conditions
Plantar Fasciitis
Caused by excessive stretching of the plantar fascia that leads to inflammation. Sufferers can experience symptoms such as, heel pain, arch pain, and heel spurs. The plantar fascia is a broad band of fibrous tissue that runs along the bottom of the foot, connecting at the heel bone and extending to the forefoot. Possible Causes are over-pronation and unusually high arches.
Bunions
Known medically as Hallux Valgus, bunions are one of the most common foot problems. Bunions present as prominent bumps or protrusions on the inside of the foot around the joint of the big toe. This bump can be caused by genetics, improperly fitted footwear or other factors. This condition can cause swelling, inflammation, and overall soreness to the 1st and 2nd toe.
Heel Pain
Plantar fasciitis is the most common cause of heel pain, accounting for around 4-out-of-5 cases. It is where the thick band of tissue that connects the heel bone with the rest of the foot (the plantar fascia) becomes damaged and thickened. Other Causes: Achilles Tendon Rupture, Heel Spur, Reactive Arthritis, Stress Fractures, Peripheral Neuropathy, Tarsal Tunnel Syndrome, Osteomyelitis.
Copyright © 2022 – Mid Star Lab All Right Reserved